100 Dolní Bečva, nr. Rožnov pod Radhoštem, Moravia, Czech Republic
N/E: 49.460192,18.21491 (works fine on most GPS navigators such as TomTom)
See on Google Maps

By car:
(recommend purchase of a map – you are aiming for Rožnov pod Radhoštěm)
Driving instructions from Prague: Take main road to Brno, past Brno follow signs to Olomouc, then to Hranice, then to Valašské Meziříčí, then to Rožnov p. Radhoštěm. Go past Rožnov on the main road, the next village is Dolní Bečva. Go through the village entirely, as you get out of the " built up" area about 200m there is a turn to the left – look for a signpost to your right with "Benzina" and other markings pointing left.
Go up this road bear left, and then turn left at the small grocery store. Follow the road up the hill about 500m, until you see a tiny chapel on your right. The house is the next on the right following the chapel.
The distance between Prague and Dolní Becva is approx. 360 km. The journey may last from 3,5 to 4,5 hours depending on traffic and weather conditions.
By train:
There is a convenient train connection from Prague to Roznov p. Radhoštem (via Valašské Mezirící) which operates fairly frequently every day. The journey may last from 4,5 to 5,5 hours depending on type of the train. For detailed information on timetables and conditions please see www.vlak.cz
Useful tip: To save money you could take advantage of a special ticket called "kilometricka banka" which is in general a pass to use up to 2000 km for CZK 1200 (max of 3 passengers may travel together using this pass). This pass can be purchased at the railway stations and the conductor inside the trains will deduct the respective number of kilometers from it upon it presentation during the journey itself.
You could hire a local taxi from Roznov p. Radhoštem to take you to the cottage in Dolní Becva (approx 5 km - cost approx. CZK 150). We can arrange this upon your request, of course.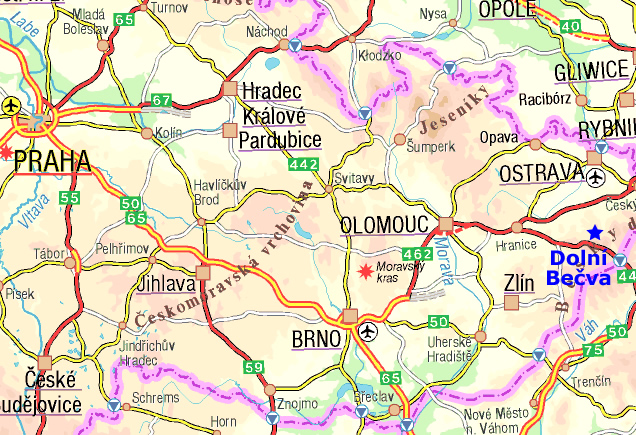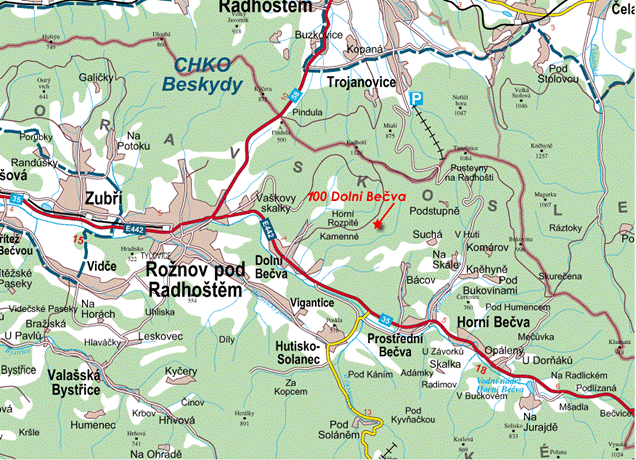 See on Google Maps
If you have not collected keys in Prague, please advise time of arrival in order that keys may be handed over. Any problems call Gordon +420 603 154447 or Jana +420 602 261848